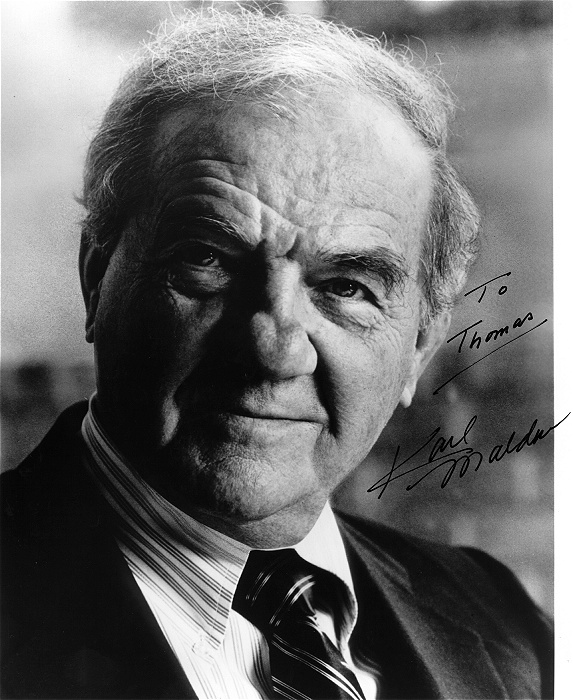 KARL MALDEN
(Mladen George Sekulović)
* 22. March 1912 (in Chicago, Illinois) † 01. July 2009 (in Los Angeles, California)
---
OSCAR
1952 as Harold 'Mitch' Mitchell in 'A Streetcar Named Desire'
---
OSCARNOMINEE
1955 as Father Barry in 'On the Waterfront'
---
comments

since I was a kid, I liked him most as Detective Lieutenant Mike Stone in 'The Streets of San Francisco' (1972 - 1977)

his parents are Petar Sekulović (* 1886 † 1975) and Minnie (* 1892 † 1995)

one of the longest Hollywood marriages (even longer than the one of Bob Hope)...he was married to Mona Graham (* 1917 † 2019) for 70 years since 18. December 1938 until his death

he served three terms as president of the Academy of Motion Picture Arts and Sciences and is currently on the organization's Board of Governors

he broke his nose twice as a highschool football player

nice short story:
when he received the Oscar for his role in 'A Streetcar Named Desire', he sat next to his friend, Humphrey Bogart, and when his name was called for best supporting actor he said to Bogart:"Watch my coat, will ya?" Bogart said: "Get the hell up there! What are you worried about your coat for? You just won an Oscar !" They shuttled Malden into the press room where he answered questions and about an hour later in comes Bogart. He just won best actor for his role in "The African Queen" and was very happy. Malden said:"What did you do with my coat?" Bogart said:"Fuck the coat!"
---
BACK TO MY HOMEPAGE